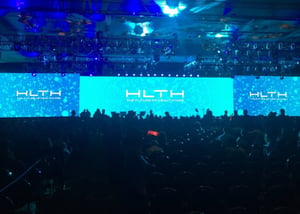 Innovation in healthcare is no small topic, nor an easy conversation to cover – but this year's HLTH event, "The Future of Healthcare," did a pretty good job touching on some of the issues and interest areas most relevant to where we believe healthcare is focused today. The Accresa team attended HLTH as a sponsor and exhibitor, and was fortunate to have the opportunity to meet and engage with a number of diverse thought leaders and industry influencers – reinforcing (from our perspective, at least) how many critical stakeholders must be actively involved in the broader effort to drive meaningful change and innovation to healthcare as we know it.
Here are a few of our key takeaways (although it was hard to pick just a few!) that resonated with our mission at Accresa: to help employers offer affordable access to exceptional healthcare to their employees.
One: Consumer is (Still) King.
It felt like the turn of the millenium again, when Health Savings Accounts had first emerged onto the scene and healthcare "consumerism" found its way into our collective benefits vocabulary. Back then, the idea was that we could realize greater savings and drive better results for individuals and for the system at large by empowering consumers with the incentives, payments mechanisms, and pricing transparency required to make informed decisions about how their healthcare dollars were spent. In other words – by harnessing competitive market forces within healthcare just as we would any other consumer market.
Well, the idea lives on. And judging by the emerging technologies, payments and data solutions, and consumer-friendly tools that were on display at HLTH, healthcare consumerism is here to stay. Equally impressive beyond the consumerism infrastructure itself was the general tone and message around consumer-driven healthcare – which conveyed an expectation and even a presumption that consumers today should have access to these things in order to achieve an optimal (and affordable) healthcare experience.
Two: We're Drastically Under-Investing in Primary Care.
Do you remember the last time you spent more than 30 minutes of relaxed, quality time with a primary care physician, when you weren't suffering from an acute sinus infection or some other "I-just-need-to-feel-better-RIGHTNOW" healthcare crisis? Neither do I. And, as it turns out, most Americans (and our employers) are in the same boat: equally guilty of neglecting the one area of our healthcare that has real and immediate potential to drive down costs to the system, reduce unnecessary specialty and urgent care, and help us lead more healthy lives.
Primary care may not be the sexiest topic in healthcare today, but the data behind the "back-to-the-future" ideal of the primary care doctor as the steward, quarterback, and first line of defense for all our healthcare needs speaks for itself. At HLTH, we learned that we invest on average just 10% of total healthcare spend on primary care. Just 10%. The growing data and case studies on direct primary care (DPC) and similar models show that by simply increasing that investment to 20%, employers can realize 30% or more in savings on total healthcare spend for their plan. At Accresa, we live and breathe these kind of numbers for the employers we serve, each and every day. If you're an employer who is not already a DPC convert, wouldn't you agree that with that kind of return (not to mention, a better experience for your employees!) – it's worth your while to take another good, hard look at direct primary care?
Three: Employers are the

Barrier

Means to Meaningful Change in our Healthcare System.
Much has been written and debated about the role of the employer in our American healthcare system, and we won't delve into it here – other than to reiterate our conviction that no matter what your opinion on the matter, employer-sponsored healthcare is too deeply ingrained, both culturally and systemically, to disappear anytime soon. Therefore, meaningful change and innovation within the U.S. healthcare system should and must be undertaken with an understanding of and appreciation for the role of the stakeholder upon whom more than half of Americans depend, as a means to obtain and pay for healthcare services.
And those who would write off the employer's ability to "innovate" healthcare would do well to explore some of the themes discussed at HLTH – which went beyond the Amazon-JP Morgan-Berkshire Hathaway headlines to explore how employers of all sizes are advancing healthcare innovation and achieving real and measurable results, today. These themes include the rise and expansion of self-funded insurance strategies, value-based care models with seamless integration for workplace plans, wellness "2.0", and a plethora of consumer-friendly, data-rich tools tailored for both plan sponsors and individual employee healthcare consumers. If employers are truly driving the next wave of innovation in healthcare, the future looks bright indeed!
What's Next?
After escaping the Las Vegas heat, we left HLTH more energized and inspired than ever, ready to tackle what lies ahead. We (like most Americans) are impatient for change and improvement in how healthcare is delivered and paid for. But change has never seemed more possible nor closer upon our horizon than it does today, thanks to the many leaders, innovators, and passionate reformers who are bringing their energy and expertise to the table and mobilizing in full-force to ensure a better healthcare future!
Did you make it to HLTH 2018? If so, we'd love to hear your thoughts! If not, we'd still love to hear from you – please comment below or send us your feedback on what you're seeing and what you'd like to see when it comes to the "future of healthcare."